Urge Senator Nelson to support S. 1534 - The Amateur Radio Parity Act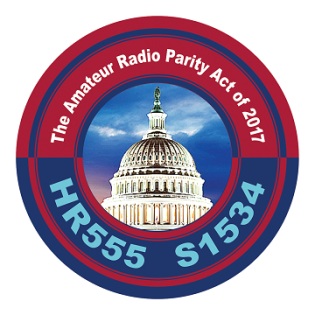 In the wake of Hurricanes Irma and Maria, thousands of Amateurs are heavily engaged in providing public service relief and recovery communications into and out of the affected areas, especially in Puerto Rico, the U,S. Virgin Islands, and across Florida. On Wednesday October 4th, the U.S.Senate will begin consideration of S. 1534 - The Amateur Radio Parity Act. Please contact Senator Nelson and implore them to support this important piece of legislation.
Dear Senator Nelson:

As one of over 40,000 FCC-licensed Amateur Radio Operators in Florida, I am writing in strong support of S.1534, the Amateur Radio Parity Act, bipartisan legislation that will increase our nation's capacity to provide emergency communications during disasters. At a time when our nation has been struck by three successive hurricanes, and when amateur radio operators are serving as a vital communications link in each and every case, it is more critical than ever that this legislation be passed.

Let me begin by noting that this bill is different than the legislation you opposed in November of 2015. At that time, you said, "I support amateur radio, but there must be a happy compromise." Based on your stated objections, ARRL began intense negotiations with representatives of homeowner associations lasting several months. Those discussions culminated in a "happy compromise" endorsed by both organizations and incorporated in the Wicker-Blumenthal bill, S. 1534.

With this agreement, both ARRL and HOAs obtain a balance between the needs of the Amateur community while simultaneously recognizing community associations' unique needs. The House of Representatives has twice passed a "happy compromise" bill identical to Wicker-Blumenthal. This bill directs the FCC to develop rules to allow hams and their resident HOA the ability to provide effective outdoor antennas on their exclusive-use property – an element which is absolutely crucial to the continued ability of hams to provide the critical communications necessary to assist in the mitigation of a disaster.

Craig Fugate, the Director of FEMA under President Obama, understood how important having a home-based ham station is to being prepared for when disaster strikes. During a speech to the ARRL in 2014, Fugate said, "You can't perform if you're not practicing…when the disaster hits, the amateur radio operator takes that hobby and turns it into saving lives." He went on to say that "amateur radio is always that last-mile system when everything else fails; a ham transmitting can mean the difference between life and death."
As a Floridian, you know the dangers we face every time a storm is named in the Atlantic. The devastation that we, along with our fellow Americans living in Puerto Rico and the U.S. Virgin Islands, suffered at the hands of Hurricanes Irma and Maria is well known by all citizens. The critical support that amateur radio operators provided both first responders and relief organizations is well documented. Right now, we have hams from all over the United States volunteering their services, with boots on the ground, in Puerto Rico and the U.S. Virgin Islands. In addition, there are thousands of hams sitting in their homes receiving and relaying messages between victims' families, friends, and loved ones back on the mainland.

Hams have been involved in the response to virtually every disaster in Florida, volunteering to staff the National Hurricane Center with communicators as well as providing needed communications for the Red Cross, Salvation Army, and other relief organization, at no cost to anyone, in time of dire need. Last week the Red Cross asked the ARRL for 50 ham radio volunteers to help with emergency communications in Puerto Rico. It is because of the reliability of amateur radio and the preparedness of practicing hams that all of these organizations, as well as ARRL and the national association for community associations, have all endorsed this bill.

The fate of this bill affects everyone. As a constituent and ham radio operator, I implore you to support the bipartisan Amateur Radio Parity Act.
Sincerely, YOUR NAME AND ADDRESS